Handmade lampwork and regular glass beads necklace with detachable pendant and a toggle clasp for two lengths. It can be closed in the front or in the back.
Length: 45-47 cm
Pendant: 4 cm
Beads: app. 18 x 16 mm
The inspiration for this necklace was given by the wonderful Grotta Azzurra at the Island of Capri. The colours of the necklace reflect the breathtaking colour of the sea, surrounded by the yellowish limestone cave walls.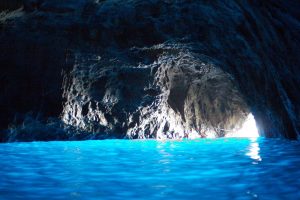 Handmade lampwork glass beads have been used for this piece of jewellery.
I am very much fascinated by this very old glass crafting technique which requires a lot of precision and skill. The patterned beads are made one by one. If you are also inspired, you will find more details about it here: